Maximize Efficiency with Variable Speed screw compressor
Get ahead of the competition and maximize your efficiency with our high-quality VSD rotary screw compressors.
With our competitive wholesale pricing, you can afford to take your business to the next level.
Table of Contents For This Page
To make sure you can find the information you want quickly, we have prepared this content directory that will jump to the corresponding location.
Optimize Your Productivity with VSD Screw Compressors
Get ready to experience the peak of performance!
Variable Speed Rotary Screw Compressors Specification
Unlock Your Potential with VSD Two-Stage Screw Compressor
Discover how VSD Two-Stage Screw Compressors can help you leverage your maximum potential
Variable Frequency Screw Air Compressors Specifications
When you partner with WEMANUO for your compressor needs, you're not just getting a product – you're gaining a loyal ally to help power your business!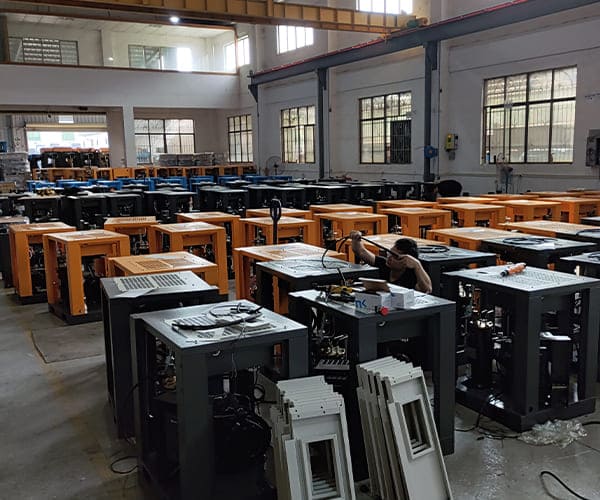 Workshop and warehouse showcase
How to Manufacture Variable Speed Screw Compressor?
Manufacturing a Variable Frequency Screw Compressor involves several steps: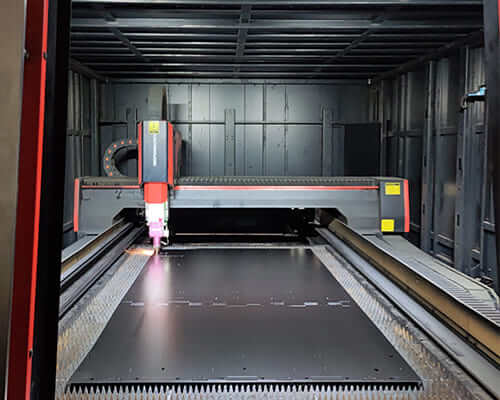 Cutting
We use high-precision laser cutting machines to cut the metal sheets into the required shapes and sizes.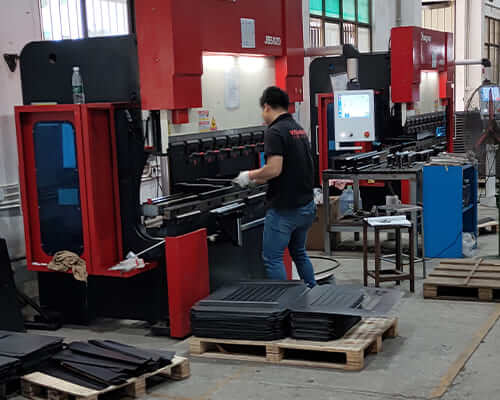 Forming
We use advanced bending machines to form the metal sheets into the desired shape, ensuring accurate and precise dimensions.
Painting and drying
Once the metal sheets have been cut and formed, we paint them using high-quality paint, which is then dried in a controlled environment to ensure a flawless finish.
Assembling
We carefully assemble the components, including the motor, variable frequency drive, and oil and gas separator, ensuring that each part fits together perfectly.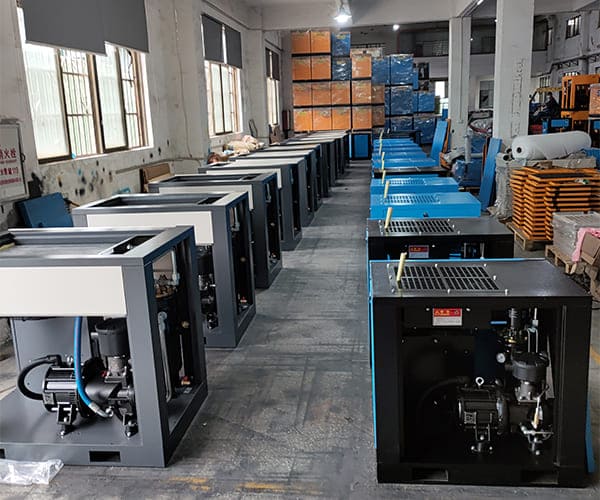 Full assembly
The assembled components are integrated into the compressor, ensuring that all parts work together seamlessly.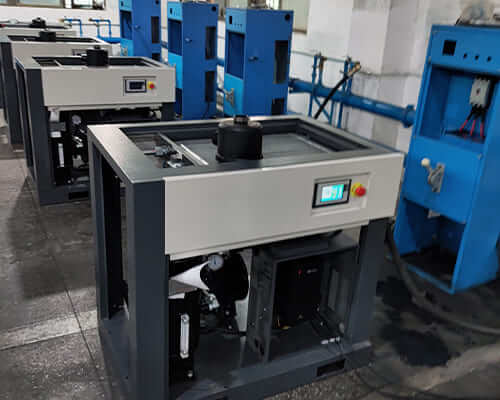 Quality control
Each compressor is subjected to a rigorous testing and inspection process before it is shipped to ensure that it meets our high standards of quality and performance.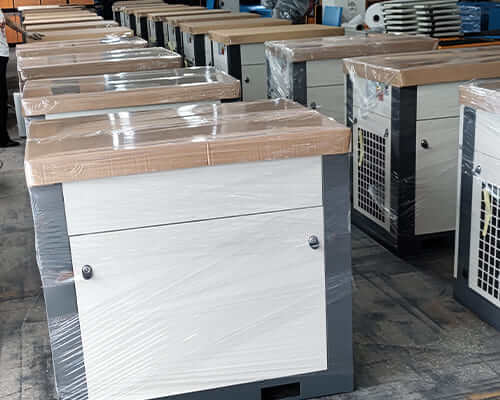 Packaging
We use high-quality materials to pack the compressors to protect them during transport, ensuring that they arrive at their destination in perfect condition.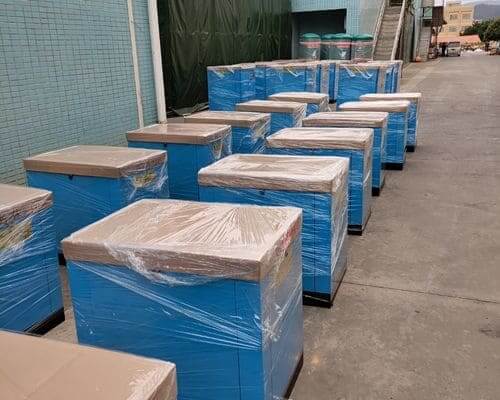 Shipping
We work with trusted logistics partners to ensure that the compressors are shipped to their destination in a timely and efficient manner, with complete tracking and insurance coverage.
FAQs About VSD Screw Compressors
What is a VSD compressor and how does it work?
VSD stands for variable speed drive or variable speed compressor. It adjusts the speed of the motor to match the air demand, resulting in energy savings and longer equipment lifespan.
What are the benefits of using a VSD compressor?
VSD compressors provide energy savings, increased lifespan, consistent air flow, and versatility for a wide range of applications.
How do I know if a VSD compressor is right for my business?
Consider your air demand, energy efficiency goals, and the specific application. A VSD compressor is ideal for operations with variable air demand and a desire to reduce energy costs.
Can a VSD compressor handle heavy-duty applications?
Yes, VSD compressors are versatile and can handle a wide range of applications, including heavy-duty operations.
How much can I save on energy costs by using a VSD compressor?
Depending on your air demand and usage, energy savings can range from 10% to 35% compared to fixed speed compressors.
Is maintenance more difficult for a VSD compressor?
No, maintenance for VSD compressors is similar to fixed speed compressors. Regular maintenance is required to ensure optimal performance and longevity.
Can I retrofit my existing fixed speed compressor with a VSD drive?
Yes, a VSD drive can be retrofitted to existing fixed speed compressors to provide energy savings and improved performance.
What is the warranty for a VSD compressor?
Warranty varies by manufacturer, but typically ranges from 1 year to 5 years. Be sure to inquire about warranty coverage and service options before purchasing.
Ready to take your business to the next level
If you're looking for an air compressor that's reliable, efficient, and easy to use, a fixed frequency screw air compressor might be just what you need!
Think of it like a superhero of the compressed air world – it can deliver more air flow in a shorter amount of time, which means you can get your work done faster. Plus, it's smart and energy-saving, adjusting its speed based on your air demand to save you money on energy costs.